#
PRESS KEY (Any key)
#
Description
The PRESS KEY component allows you to simulate a key press on the computer. You can use it to trigger specific actions within a program or a webpage.
You can use the PRESS KEY component to simulate any key on the keyboard, including modifier keys such as Ctrl, Alt or (Option on macOS), Shift and Win.
You find the list of all available keys below in the Keys list section below.
#
Modifier keys
#
Example
To save a file every time a barcode is acquired, you would typically need to press Ctrl+S on a keyboard.
To automate this step and simulate this key combination, you can use the PRESS KEY component:
Open the Server Settings
Add the PRESS KEY component to the Output Template: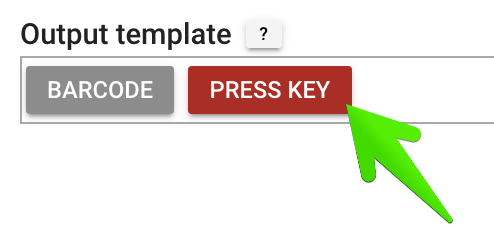 Click PRESS KEY and select the LeftControl from the modifier keys list: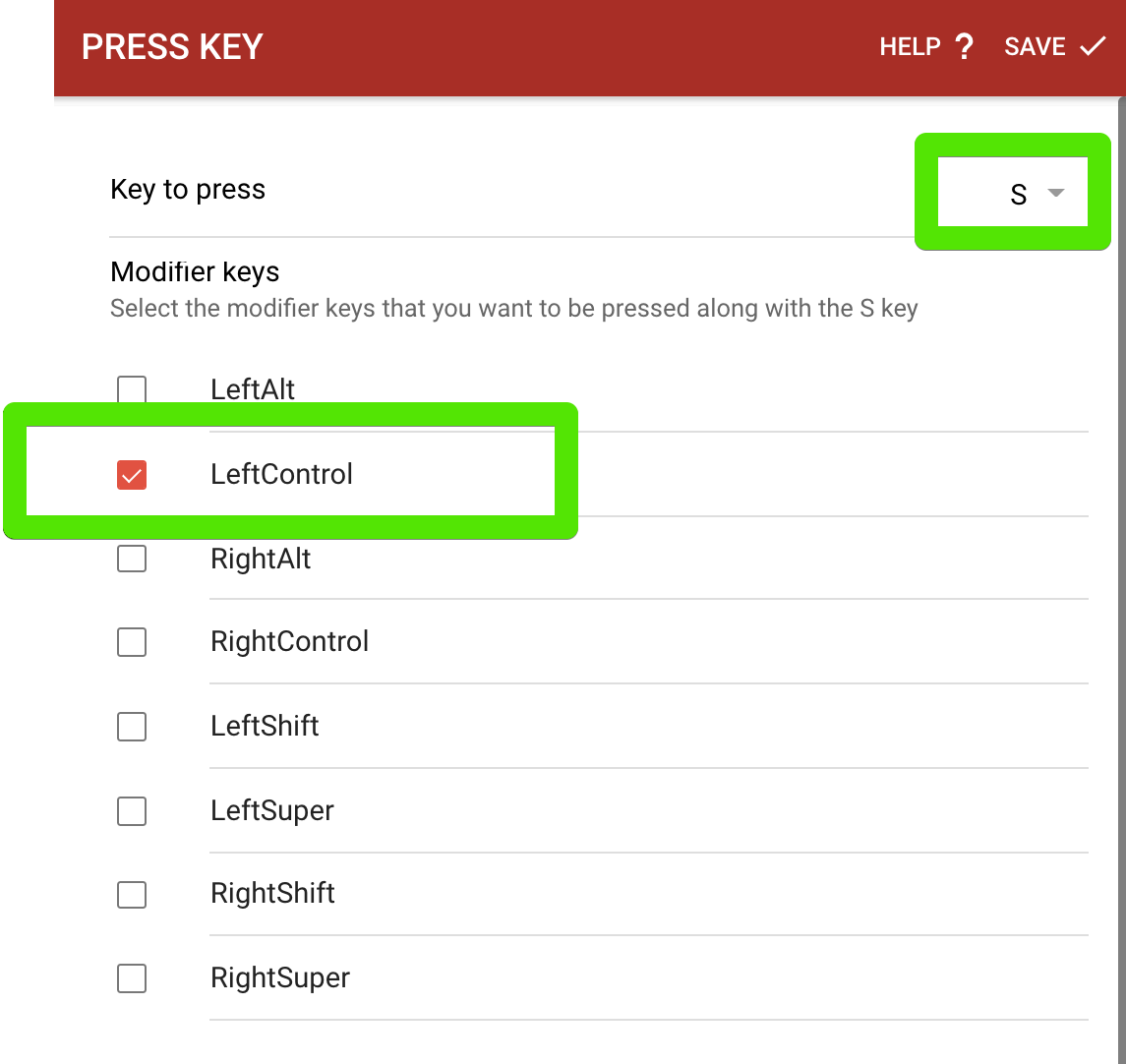 #
Supported keys
In addition to the ENTER and TAB components which have their own components, the PRESS KEY component supports the following keys:
Space
Escape
Tab
F1
F2
F3
F4
F5
F6
F7
F8
F9
F10
F11
F12
F13
F14
F15
F16
F17
F18
F19
F20
F21
F22
F23
F24
Num0
Num1
Num2
Num3
Num4
Num5
Num6
Num7
Num8
Num9
A
B
C
D
E
F
G
H
I
J
K
L
M
N
O
P
Q
R
S
T
U
V
W
X
Y
Z
Grave
Minus
Equal
Backspace
LeftBracket
RightBracket
Backslash
Semicolon
Quote
Return
Comma
Period
Slash
Left
Up
Right
Down
Print
Pause
Insert
Delete
Home
End
PageUp
PageDown
Add
Subtract
Multiply
Divide
Decimal
Enter
NumPad0
NumPad1
NumPad2
NumPad3
NumPad4
NumPad5
NumPad6
NumPad7
NumPad8
NumPad9
CapsLock
ScrollLock
NumLock
AudioMute
AudioVolDown
AudioVolUp
AudioPlay
AudioStop
AudioPause
AudioPrev
AudioNext
AudioRewind
AudioForward
AudioRepeat
AudioRandom